Seizure Disorders

Introduction
Translations
Translations of this article are available in:
Overview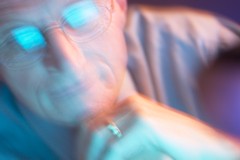 Some people are susceptible to seizures caused by strobing, flickering, or flashing effects. This kind of seizure is sometimes referred to as a photoepileptic seizure because it is caused by pulses of light (hence the prefix "photo") interacting with the eye's light-receptive neurons and the body's central nervous system.
Most web content is completely harmless to individuals with photoepileptic tendencies. Even most animations, videos, moving text, and Flash objects do not present any danger. However, some developers insist on dramatic effects of flashing or flickering lights and strobe-like effects. Science-fiction style Flash objects, horror movie previews, and cheap-looking banner ads are among the worst offenders. Maybe the creators of these effects think they're "cool," but they are also potentially dangerous. Developers should make every effort to ensure that their content does not have strobing, flickering, or flashing effects.
What Constitutes Strobing, Flickering or Flashing?
Section 508 of the U.S. Rehabilitation Act prohibits flickering effects with a frequency greater than 2 Hz (flickers per second) and lower than 55 Hz. In truth, this is an arbitrary designation. Most people would not notice a flashing effect at 55 Hz. On the other hand, practically everyone will notice something flickering 2 times per second, and will probably be annoyed by it, even if they do not experience a photoepileptic seizure. In addition, annoyed users are distracted, which violates another principle of accessibility: focusing the user's attention on the main content, which is especially important to users with attention deficit disorders or some types of cognitive disabilities.
The size of the object plays a part in determining whether it will cause a photoepileptic seizure. Small flickering objects probably will not cause harm (though they likely will still be annoying and distracting). The larger the object, the greater the chance of causing a seizure.
Even if the object does not cause a seizure, it may cause nausea or dizziness in some people. Neither of these is as serious of a health risk as a full-blown seizure, but having users mentally associate your web site with feelings of nausea is probably not the best design decision, at least in terms of user satisfaction and repeat visits.
In some instances, an image does not even need to move to cause these effects. High contrast graphics with tight parallel lines can have similar effects, due to the optical illusion that parts of the image are in motion.
Example
Warning
The following examples are BAD examples! Do not follow these links if you think you might be susceptible to photoepileptic seizures.
Conclusion
Because of the potentially serious nature of seizures, developers should be extra careful to avoid any graphics, animations, movies, or other objects which have strobing, flickering, or flashing effects. Developers should also avoid graphics which may induce nausea or dizziness.