About WebAIM
Our Mission
WebAIM's mission is to expand the potential of the web for people with disabilities. We empower individuals and organizations to create and deliver accessible content by providing knowledge, technical skills, tools, organizational leadership strategies, and vision.
Our Method
At WebAIM, we accomplish our mission by:
providing services and training to organizations and individuals
developing accessibility evaluation tools
creating instructional materials and resources
fostering an active online community
engaging in research, and
participating in policy dialogues and processes.
Over the years WebAIM has secured competitive grants and contracts from both government and private funders enabling us to engage in research, development, and dissemination. In 2005 WebAIM began providing fee-based services. These expanded over time and now include:
Training. A variety of accessibility and system change topics are available. We can come to you or you can come to us, and some training opportunities are virtual or online.
Evaluation. Our services range from small to large scale projects, with manual evaluation and reporting, or automated WAVE AIM reports. We can also certify a website's conformance to the Web Content Accessibility Guidelines. Our evaluation service helps others focus on what they need to do so that their digital content is accessible. Evaluation services are often provided in conjunction with training or technical assistance.
Technical assistance and consulting. These services are highly customized to the needs of a client, and have been used in versatile ways to help clients achieve their accessibility goals.
WebAIM is committed to the development and proliferation of accessible web content and technologies worldwide. We value the principles of volunteerism by donating 10% of staff time to initiatives within the accessibility community.
Our History
WebAIM's origins date back to 1997 when WebAIM's founder, Cyndi Rowland, was presenting at a professional meeting about our Institute's new web site and was asked by a blind individual if accessibility had been considered. Having never considered this question, Cyndi began exploring web accessibility and quickly became a tireless advocate for digital equity. WebAIM was formed in 1999, the same year as WCAG 1.0. In the decades since, WebAIM has evolved from a small grant-funded project to an internationally recognized leader in the web accessibility consulting and research field.
Our Clients
WebAIM has provided web accessibility evaluation, training, and consulting services and products to a wide variety of clients for for nearly two decades. Clients have included governmental agencies, businesses, education institutions, non-profit businesses, and Fortune 100 corporations.
Some of our clients include:
Social Security Administration
Internal Revenue Service
Central Intelligence Agency
State of Oklahoma
Sonoma County, California
Cornell University
The Ohio State University
Texas A&M University
Chancellor's Office for the California State University System
Wesleyan University
University of Arkansas
Stanford University
PayPal
Ticketmaster
eBay
Sony
Zappos
SAS
Macys
The Church of Jesus Christ of Latter-day Saints
Bank of America
Healthwise
The Advertising Council
Langham Hotels and Resorts
Our Affiliate Organizations

Utah State University (USU) is a top, nationally ranked university. It is a land-grant institution, based in Logan, Utah with nearly 28,000 students. Although Utah State started as an agricultural college when it was founded in 1888, the university today offers 311 degrees from 51 departments and 8 colleges. In addition to the classroom-based programs, USU offers classes and degree programs to students throughout the state and the nation through distance education classes and extension programs.
The Institute for Disability Research, Policy, and Practice at Utah State University is one of the largest of the 67 University Centers for Excellence in Developmental Disabilities, Education, Research, and Services located at major universities throughout the United States, its trusts and territories. The CPD is recognized as a pioneer in research, interdisciplinary training, technical assistance and services for people with disabilities and their families. They serve as a bridge between the university and the community, by ensuring that state and local government agencies, community providers, nonprofit organizations, schools, professional, families, and most importantly, individuals with disabilities have access to the most up-to-date, evidence-based education, research, and technical assistance services.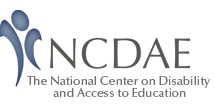 The National Center on Disability and Access to Education (NCDAE) improves educational services for all students through distance learning technologies. The Center's two Institutes monitor and promote distance education policies and practices that enhance the lives of people with disabilities and their families. Center activities include the identification of effective technology-enhanced personnel development practices, policy monitoring and development, information dissemination, and research on distance education and technology-based programs and policies.

The Center for Technical Assistance for Excellence in Special Education (TAESE) is based at the Institute for Disability Research, Policy, and Practice at the Emma Eccles Jones College of Education and Human Services at Utah State University. TAESE is the organization that administers the TASK12 education interpreter training and certification program, the national Dispute Resolution Consortium, and a variety of other State contracts and technical assistance agreements.