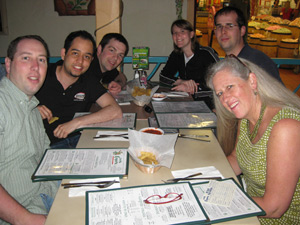 Cyndi, Kim, Aaron, Dio, Jon, and I from the WebAIM team had a marvelous time at the CSUN conference this year. This annual conference focuses on technology and disability. It was wonderful to meet and visit with so many of you, and to learn about what is new and cool in the field of web accessibility. We had the privilege of providing 7 sessions at this year's conference. Slides for most of our presentations are available below.
Accessibility of Rich Internet Applications (pre-conference workshop)
Insights Into Cognitive Web Accessibility
The Myth of the Typical Screen Reader User
Institutional Self-Study of Web Accessibility: Continuous Improvement for Our Nation's Campuses
A Beginner's Introduction to WAVE
Web Accessibility Preferences and Other Universal Web Accessibility Concepts

Because these slides are mostly useless, confusing, and potentially misinterpreted in isolation, they will not be provided publicly.

WAVE as Part of a Group-Wide Web Accessibility Plan
WebAIM was also a proud sponsor of the CSUN Tweetup.
You might also be interested in my Web Accessibility Gone Wild slides (on Slideshare) from the SXSW conference.
We're already looking forward to being at CSUN again next year!