WAVE 5.0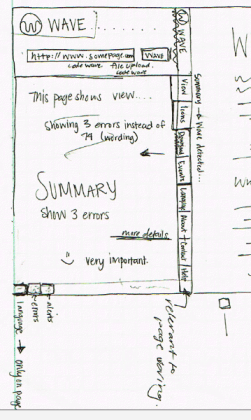 Yesterday I made the first set of commits to the WAVE5 project in our internal SVN code repository, signaling the official start of development for the fifth version of WebAIM's popular WAVE web accessibility evaluation tool. This project has been in the planning and design stage for several months now, and although we haven't actually built anything yet, we're far enough along to start sharing a few of our plans and solicit feedback and ideas from WAVE users.
The current 4.0 version of WAVE, which we released in early 2008, uses an XML-based evaluation platform that we began in late 2005, using the best systems and technologies available to us at the time. Although that was less than five years ago, there have since been numerous exciting advances in web languages, libraries, and systems, providing us the opportunity to create a faster, more flexible evaluation platform while significantly reducing the size and complexity of the WAVE code base. For this reason, WAVE5.0 is likely to be almost a complete rewrite, a process which we expect to take about a year to complete. With any luck, we'll have a public beta to show off late this fall, with an official release in early 2011. Of course, all this is just an estimate at this point, but we'll post updates here if there are any major changes to the timeline.
Features and Functionality
One of the primary goals of WAVE5 is to switch our interaction model from that of the classic "Web 1.0" website to a fully interactive web application. Instead of submitting a url and getting a mostly static report back, WAVE5 will allow WAVE users to filter, change, and otherwise modify a wave report client-side in real time. Rather than just producing a report, WAVE5 will provide the tools and resources necessary for evaluators to fully understand and utilize the information and suggestions it provides.
As part of our goal to help make WAVE more useful for everyone, WAVE5 also includes an ambitious project to increase the size and utility of our internal documentation by an order of magnitude (at least). We are preparing a dedicated help page for every WAVE icon or rule, detailing it's purpose and algorithm and providing suggestions for fixing any problems it may have found. Additionally, we plan to have a longer WAVE tutorial for new and advanced users, and documents mapping WAVE's rules and icons to common accessibility standards and guidelines. The application interface will allow for easy reference of an icon found in a report to the corresponding documentation.
Another important aspect of the WAVE5 development process is the extra importance we're putting on the WAVE Toolbar. With WAVE4, the Firefox toolbar was a side project build largely after the bulk of the WAVE website work was completed. With WAVE5, all development will be done in parallel, server and toolbar, to make sure that was have parity of features, stability, and release dates across both versions. In other words, all the plans and features just mentioned will also be available in the WAVE Toolbar, which will be released the same day as the WAVE web application.
Along with these major changes, we expect to see noticeable improvements in the time it takes WAVE to process pages, and although end users will never see it, our new build, test, and administration system will bring major decreases in the time it takes us to fix bugs and develop new functionality. At least that's the plan.
Public Feedback
Although we have nothing to show off yet, we are nevertheless soliciting public feedback at this point. If there are specific WAVE features you've always wanted to see, or some part of WAVE that you feel could be improved, now is the perfect time to let us know. Ideas and suggestions can be left as comments on this post, or send directly to the WAVE team via the contact page on the WAVE website.