This fall marks WebAIM's 10th anniversary. During that time, the WebAIM team has evolved and changed a lot. The work WebAIM does is truly a team effort from a diverse group of men and women with whom it has been an honor to work and become friends.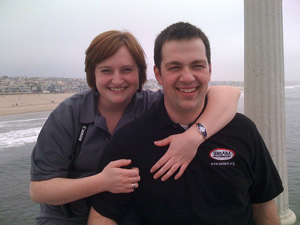 I'm especially happy to see two employees that I helped hire get married this month. Congratulations Aaron and Stefanie!
The field of web accessibility is not a typical work field. I struggle sometimes to explain what it is I do every day. I know my mother doesn't really understand it. In many ways, those of us in web accessibility are trying to work ourselves out of a job. If we were entirely successful at what we want to accomplish, we'd no longer have work to do. Of course, that's not likely to happen any time soon. Yet we try.
When people ask me how I became interested in web accessibility, I usually tell them that I love it because I'm a geek and I like people. Web accessibility gives me a unique opportunity to play with cool toys, learn amazing new skills, stay on top of new technology, but most importantly, to truly make a difference in the lives of people with disabilities.
While WebAIM's mission is to expand the potential of the web for people with disabilities, it's interesting that most of our work is not with people with disabilities directly. While the friendships and acquaintances we've made with many people with disabilities is what inspires us to do what we do, most of our days are spent working with and influencing those who typically do not have disabilities. We've found that by empowering web developers, administrators, and others to make their web sites accessible, that we have a broader, more significant impact on the lives of people with disabilities – those who benefit the most from the accessibility of the sites we help influence.
When WebAIM began, few people were aware of web accessibility issues. One of our primary goals has been to increase awareness. Today, while there is still debate in some places whether accessibility is even a human right, awareness has increased. Most people that we work with are aware of the issues and are truly interested in seeing the web become a better place for people with disabilities – and not simply because some law or policy says they have to. The dilemma of the next decade will be increasing commitment to web accessibility and dispelling myths and misunderstandings about accessibility and people with disabilities. We also have the ongoing challenge of decreasing the gap between cutting edge and accessible.
And we're not alone in doing this. Some of the smartest, most passionate people on the planet work in web accessibility. I dare not name names, but I am constantly amazed at those in this field who continue to advance technology and accessibility.
So, while the field of web accessibility is a bit anomalous and always adventurous, there is tremendous need for intelligent, dedicated people to help further our efforts. As technology continues to advance, we need to redouble our efforts in ensuring that people with disabilities are given the opportunity to enjoy a truly accessible web experience. Why don't you come join us?