Zoom Accessibility Workshop
Registration is closed for our Zoom accessibility workshop. We will announce our next dates soon. Please contact us for custom Zoom accessibility training for your group, or with any other questions.
WebAIM Virtual Zoom Accessibility Workshop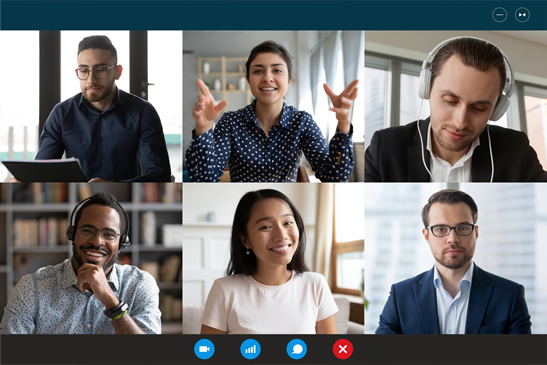 When: TBA
Where: Online via Zoom
Cost: $200/person ($160 each for groups of two or more)
Join WebAIM's accessibility experts for three hours of hands-on training on creating and hosting accessible Zoom meetings and webinars.
FAQ
What will I need to participate?

We strongly recommend:

A reliable internet connection.
A Zoom account
A microphone. You will have opportunities to speak and ask questions.
A webcam. We hope you will feel comfortable sharing your video to allow more personal interactions. After all, we are practicing how to make Zoom interactions more accessible.

What kind of Zoom account do I need?

You need to be able to create and host your own Zoom meetings. We will cover some features that are only available with paid accounts, such as polls, cloud recording, breakout rooms, and webinars. However, most of the features and principles that we will cover are also available to users of free Zoom accounts.

Does this training cover how to create accessible slides and handouts?

We will review some principles of creating accessible slides and documents, but that is not the focus of this workshop. We offer an online course on accessible documents and can also provide customized training on this topic.

Will the training be archived?

Since this is an interactive training and not a webinar, an archived version will not be available.

Will the training be accessible?

We have been providing virtual training for years and know what it takes to create an accessible experience. The event will have automatic captions, and we will be happy to work with you before the event to address any accessibility concerns you might have.

What if we have a group of people participating in the same room?

A registration is for one person, and we strongly recommend that each person have their own Zoom account so that they can fully participate in activities.

What other training options do you have?

We also host virtual trainings on web accessibility and strategic accessibility and offer customized in-person or virtual training on just about any topic related to web or document accessibility.

What is your cancellation policy?

We offer a full refund for a cancellation more than 5 days before the event. There is a $75 fee for a cancellation within 5 days of the event. No-shows will not receive any refund.
Training Topics
Configuring Zoom settings
Accessibility accommodations

Captions and automatic transcriptions
Captioners and Sign Language Interpreters
Other accommodations

Creating the Meeting or Webinar

Meeting and webinar settings
Registration

Creating an accessible environment

Accessible slides and materials
Adjusting your display
Setting up captions and interpreters
Describing visuals and tasks

Accessibility of Zoom features

Share screen
Polls
Chat
Breakout rooms
Reactions

Optimizing recorded meetings

Preparing and distributing cloud recordings
Exporting a caption file
Need Help or Have Questions?
If you have any questions regarding the workshop or the registration process, please contact us.