In-Person Web Accessibility Training

Next training coming soon
We are very excited to resume our in-person training in beautiful Logan, Utah! See below for details and registration.
We will also continue to offer virtual web accessibility training.
WebAIM Web Accessibility In-Person Training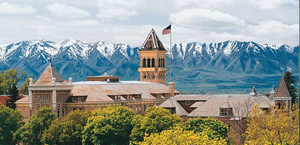 When: TBA
Where: Logan, Utah
Cost: $950/person ($800/person for groups of two or more)
This training session will teach everything from basic web accessibility principles to advanced accessibility techniques.
Learn what you need to know to ensure that your web site meets legal guidelines and international standards.
This training is primarily suited for web developers, though it will be valuable for designers, program managers, quality assurance experts, or anyone interested in gaining a deep understanding of web accessibility. A basic understanding of HTML is recommended.
Training participants receive a complimentary registration for WebAIM's Document (Word, PowerPoint, and PDF) Accessibility online course—a $125 value.
Our previous trainings have received an average evaluation rating of over 4.5 out of 5. Read what others have said about WebAIM onsite trainings.
Training Outline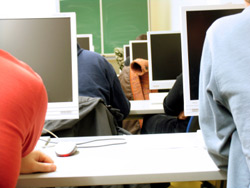 Introduction

Structure of WCAG 2
Overview of relevant laws
Strategic accessibility
User experience

Hearing

Captions and transcripts for multimedia

Vision

Zooming content
Contrast
Color use
How screen readers work
Page Title
ARIA & Landmarks
Headings
Lists
Tables
Document language
Alternative text
Forms (labels, fieldset/legend)

Photosensitive epilepsy
Motor

Considerations for voice control software
Meaningful link text
Keyboard navigation
Mobile accessibility
WCAG label and name
Hiding content with CSS
Skip links
Contrast of user interface components

Cognitive accessibility

Understandable content
Legible text
Animating and time-sensitive content

Evaluating web accessibility

Principles and methodologies for evaluation and user testing
WAVE and other automated tools
Chrome Developer Tools
Keyboard testing
Screen reader testing
The afternoon of the second day will be split into two breakout groups:
Advanced topics

Rules of ARIA use
Forms
ARIA labels and descriptions
Form error messaging
Tabindex and scripting
Dialogs
ARIA roles, states, and properties
OR
Document Accessibility Overview

Creating accessible Microsoft Word documents
Converting Office documents to PDF
PDF principles
PDF evaluation and repair in Acrobat Pro
This is not the first accessibility training I have taken… but it is the best I have taken. Thank you for making this time worth spending.
If you want to learn the skills required to ensure your organization's web site is accessible, this training will provide what you need. We will also share the resources and information you need to empower your organization to meet your future accessibility needs.
WebAIM has trained tens of thousands of web developers across the world. Clients include PayPal, IBM, eBay, the Internal Revenue Service, several state governments, and over 100 colleges and universities. WebAIM trainers have presented at hundreds of conferences and meetings around the world and are active in web accessibility standards development.
Additional Details
Schedule
Training times will be 9am-5pm on the first day, and 9am-3:30pm on the second day. This should leave time to get to Salt Lake City for an evening flight after approximately 6pm. The training will be held in Room 307 of the Institute for Disability Research, Policy, and Practice (formerly the Center for Persons with Disabilities) at Utah State University.
What's included?
Registration includes lunch on both days. Participants staying at the University Inn are provided complimentary breakfast there. We will have light breakfast items, snacks, coffee, juices, and water available for all training participants. Computers are not provided, but complimentary wireless internet access will be provided.
Pre-training Tour and Dinner
For those that are interested, we are planning a pre-conference tour of scenic Logan Canyon on Tuesday afternoon (we'll leave Logan at 3:30pm). We will also hold a pre-training dinner in Logan on Tuesday evening if you would like to join us.
Training Plus
As part of a training registration, you will have the option to secure 3 hours of one-on-one time with WebAIM staff at a discounted price of $575. You can use this time for additional training, a mini-evaluation, or other consultation (in up to 2 separate engagements). Additional details are available during registration.
Travel arrangements
The training was a great overview as I am new to this entire realm. I learned a lot and have many follow-ups for my company based on what I learned. The instructors were very knowledgeable, which was helpful as a novice.
We strongly recommend staying on campus at the Utah State University Inn - the training is held in the Institute for Disability Research, Policy, and Practice (formerly the Center for Persons with Disabilities), a short walk from the Inn. Discounted rooms are available to training participants.
Logan, Utah is readily accessible via Salt Lake City. The Salt Lake City airport is accessed by all major airlines. Logan is a scenic 1.5-hour drive North of Salt Lake City. Shuttle service is available (select the USU location - this is a short walk from the University Inn).
Our training site is close to many recreational and scenic areas, including Logan Canyon Scenic Highway (10 minutes), Bear Lake (1 hour), Park City (2 hours), Yellowstone National Park (4 hours), Jackson Hole (4 hours), and Zion National Park (5 hours). There are plenty of opportunities if you would like to extend your trip and see more of Utah and beyond.
FAQ
How is this similar to your virtual training?

Both events are live training events with an emphasis on interaction and participation. Questions and interaction are encouraged, and we keep our group size small—30 participants for the in-person training and 35 participants for virtual training.

How is it different?

The virtual training is shorter— about 8 hours vs. almost 13 hours of training for in-person training. The same general topics will be covered in both trainings, but with less detail in the virtual option (especially testing activities, user experience, and deeper ARIA). The in-person training also has more interaction with trainers and other participants, especially if you choose to participate in pre-training tour and dinners.

What other training options do you have?

If you are looking for organizational or system change work in accessibility, you may want to consider our Strategic Accessibility Workshop. We also offer customized in-person or virtual training on just about any topic related to web or document accessibility.

Do you host a hybrid version of this training?

It has been our experience that hybrid events (a mix of in-person and virtual participants in one event) is usually less effective for on or both groups. Instead, we host events that are optimized for each group. We can provide customized hybrid training at your location.

What will I need to participate?

We strongly recommend that you bring a laptop so that you can participate in our many activities. You will have a chance to install other free evaluation tools during the training. Wireless internet is provided.

Will the training be accessible?

We have been providing online training for years and know what it takes to create an accessible experience. We will share accessible electronic versions of all resources and are happy to work with you before the event to address any accessibility needs concerns that you have.

What is your cancellation policy?

We offer a full refund for a cancellation more than 10 days before the event. There is a $250 fee for a cancellation or transfer within 10 days of the event. There is no refund or transfer for no-shows. Please contact us if an unforeseen event arises—we will do our best to work with you.
Need Help or Have Questions?
If you have any questions regarding the training or registration process, please email us or call 435-797-8284.